How to get to Petra from Amman
Food
Lifestyle
Travel
Wellness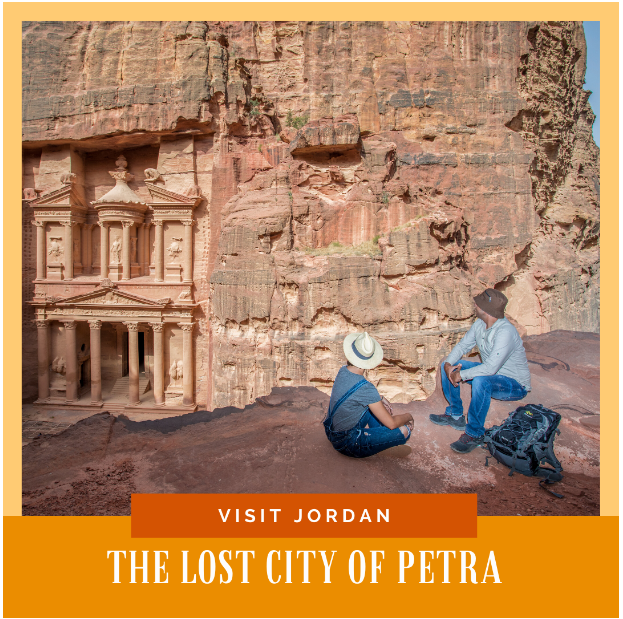 If Jordan is on your to-visit list, then Petra should be on your check list while you're there! Spectacular Petra, dubbed "The Rose City," is Jordan's national treasure and the country's most popular tourist attraction. Not only a UNESCO World Heritage site, but Petra was also voted as one of the New 7 Wonders of the World. Many people come to Jordan just to explore Petra and the famous Al-Khazneh (The Treasury) structure which the Nabateans carved out from sandstone rock. In addition to the picturesque Treasury, Petra has a plethora of palaces, temples and tombs to explore, not to mention the remarkable experience you get to live as you walk down the Siq; a trip down history lane!

Petra is located in the southern part of Jordan, nearly 236 km away from Amman, Jordan's capital and business hub, where more than 40% of the population live. Whether you are here on a business trip, for leisure or simply visiting friends or family, keep in mind that Petra is a majestic must-see destination that should be on your trip itinerary.
How to get to Petra?
A 3-hour drive from Amman will get you to Petra, so let's explore the options at hand:

JETT Buses: A private bus company that provides first-class service, with two branches located in Tabarbour and 7th Circle. JETT operates per scheduled trips to and from Petra at competitive prices, not only that, but it also offers more comfortable VIP seats if you're willing to pay a little bit more. Check out JETT Buses' website
If you're going directly from Queen Alia International Airport, your faster option would be Queen Alia Airport Taxi. The airport is a bit closer to Petra than the center of Amman, which makes the trip a tad faster; however, the airport's taxis will definitely cost more.
You can drive there yourself; all you need to do is rent a car from any car rental and set off. There's only one main route to the south, so you would find your way easily. Note that this option will cost more than taking the bus, and make sure you're licensed to drive in Jordan.
You can hire a private taxi or use a ride-hailing service like Uber or Careem. This can be a more expensive option but it's definitely more comfortable and a very convenient way to get there and back. Amman has a lot of taxis, so finding one should be a breeze!
If you're looking to pay less on transportation, you can easily take a public bus/micro bus. All you need to do is ride a taxi to the South Bus Station, or as it's commonly known in Arabic "Almujamma' Aljanubi," and take a bus there. This option is the most feasible of all, but is a bit inconvenient as micro buses don't operate per schedule and they wouldn't depart until they're full, which might waste your time.
No matter how you get to Petra, one thing is certain: you will be mesmerized by its unmatched beauty and the magnificent history engulfing it.

Don't forget to check Jordan Pass before visiting Jordan to help you save time, money and effort as you make the most of your trip visiting top tourism sites and attractions. For more information on Jordan Pass, go to their website