72 Hours in Aqaba
Food
Travel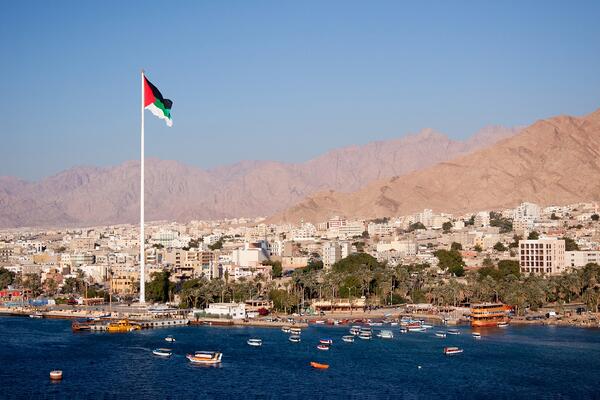 When you think of Jordan, desert landscapes and age-old cities likely come to mind. Lesser known is this country's southernmost resort town, where the red-brown mountains are cut off by a startlingly blue sea.
After exploring the vast plains of Wadi Rum and the ancient treasures of Petra, head south and immerse yourself in the seaside delights of Aqaba, Jordan.
Spend a day experiencing the world-class scuba diving of the Red Sea.
On your first day in Aqaba, dive right in to what the city is best known for: scuba. When it comes to aquatic adventure, you should head straight to Deep Blue Dive Center, where you can choose a trip that lets you explore bright coral reefs, ghostly shipwrecks, or colorful sea creatures. Whether you're a beginner who wants to try diving for the first time or an experienced diver aiming to hone your skills, you're sure to find knowledgeable, friendly staff who will provide you with an unforgettable day. These trips are also a great way for solo travelers to bond with other divers.
And while scuba may be the most popular aquatic activity, it's far from the only option — other adventurous pastimes in Aqaba include windsurfing, paragliding, and jet skiing. Families, or those who are looking for a more relaxing alternative, can enjoy a day of snorkeling at Berenice Beach. This idyllic stretch of sea, full of coral and fish, is the best place to snorkel in Aqaba.
For dinner, you can't miss the fresh seafood and Jordanian flavor that you'll find at Captain's Restaurant, a place that's popular with locals and tourists alike.
Jordan's rich past isn't limited to the ruins at Petra and Jerash. History buffs may be surprised to learn that they'll have plenty to explore in Aqaba as well.
Aqaba is more than just a picturesque resort town. Although you may be first drawn to it for its seaside charm, you'll soon discover fascinating remnants of the history that lurks underneath the hummus restaurants and scuba shops.
It's surreal to step outside a modern luxury resort and wander through traces of Ayla, an ancient Red Sea port. And did you know that the ruins of a local church date back to around the 3rd century and are in fact the ruins of the oldest purpose-built church in the world? For a more in-depth look at Aqaba's storied history, you can visit the Aqaba Heritage Museum.
Later, consider trying this amazing Jordanian-Taiwanese fusion restaurant for a unique (and delicious!) culinary experience.
Browse through local handicrafts downtown and enjoy a luxurious afternoon at the spa.
Spend your last morning wandering around the city, walking through the souk (outdoor market) in search of handmade art, fresh spices, and other souvenirs. If you need a break from the sun, a stroll through the Aqaba Aquarium is a fun way to cool off. Afterwards, enjoy a casual Jordanian lunch at Al Mohandes, where you'll find some of the best hummus in town.
In the afternoon, head to one of the town's best spas for a relaxing massage before watching the sun go down with a glass of Jordanian wine in hand. What better way is there to end a vacation?
World-class scuba diving, archaeological wonders, beautiful sunsets, and amazing food: Aqaba has a little bit of something for everyone. The shore of the Red Sea is the perfect place to go for a resort vacation with an exotic twist.