Have You Seen The Martian? Here's How You Can Travel To Mars
Travel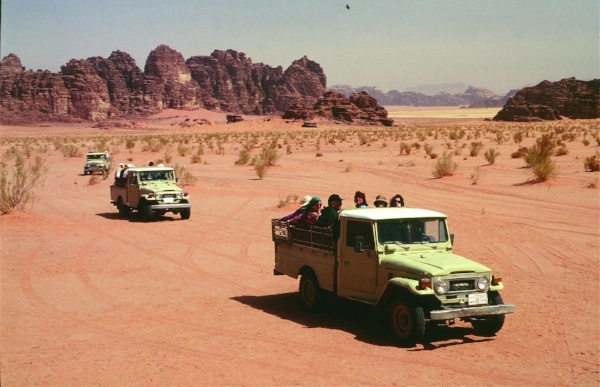 The haunting charm of the red plains and craggy cliffs of Wadi Rum make it hard to believe that this incredible desert is a part of planet Earth. Wadi Rum has more to offer than just its beauty, however: It's also a perfect destination for adventure travel in the Middle East.
Here's a list of some of the best places to visit and things to do in this captivating, otherworldly place.
Jeep tours are a can't-miss activity in Wadi Rum.
It's hard to find an experience more breathtaking than racing across the desert in the back of a 4X4, watching miles of sand disappear behind you and feeling the cool wind against your face. Make sure to book a tour in late afternoon: There's nothing quite like seeing the sun go down behind the mountains, casting long dark shadows across the plains.
In Wadi Rum, there are lodging options that range from minimalist to luxurious.
If you want to bring your own tent, there are plenty of simple campsites where you can stay on your own. There are also numerous Bedouin camps, most of which will include perks such as dinner, a bonfire, and shower facilities.
For more glamorous accommodations, check out Wadi Rum Night Luxury Camp. This camp offers several great options for lodging, but their "Full of Stars" bubble tents are perhaps the most unique. The view of the night sky outside will make you feel like you're in another universe.
Wherever you decide to stay, expect a night of tranquility with some of the best stargazing you've ever seen.
Explore the incredible landscape on foot by hiking and trekking.
If you're looking for a fairly short, reasonably accessible hike, there are two trails available directly from the visitor center. Unless you are an experienced hiker, however, you may want to consider hiring a Bedouin guide for longer, multi-day treks. The guides are familiar with the terrain, so they'll be able to help you get around easily as well as helping you make the most of your trip by providing you with cultural and historical info you might not have otherwise known.
Companies such as Wadi Rum Tours offer great treks and tours that can be customized to your area of interest. Trips available include an ecotourism trek, a trek to climb Jordan's highest mountain, and a trek to the five bridges of Wadi Rum.
There is no shortage of thrills for adrenaline-seekers in Wadi Rum.
If you enjoy heights, why not go on an early morning hot air balloon ride? From the sky, you can watch the sun come up over the magnificent cliffs far below. If you're looking for a more athletic activity, there's great rock climbing in some parts of the desert. You can easily hire a skilled local guide to show you the best places to climb and the safest way to do so.
You may be a talented snowboarder, but have you ever been sandboarding? The tall dunes of Wadi Rum are the perfect place to give this unique sport a try.
Discover the ancient history hidden among the dunes and cliffs.
Although many people visit Wadi Rum purely to enjoy its physical beauty and geographic wonders, there are also numerous historical sites that should not be overlooked.
History buffs will marvel at Khazali Canyon, where you can see ancient Nabataean writing and petroglyph drawings. The Alameleh Inscriptions are also incredible. Other significant historical sites include Lawrence's Spring and the Seven Pillars of Wisdom.
No trip to Wadi Rum is complete without at least a short jaunt on a friendly camel. There's also the option of booking a safari on camelback! If you're more comfortable riding a horse instead, that's a fun alternative as well.
No matter what you decide to do in Wadi Rum, you're sure to have an incredible travel adventure. When you finish exploring the desert, you can head over to Petra to experience its stunning historical wonders, or go down to Aqaba to relax by the Red Sea.